Ord Minnett Research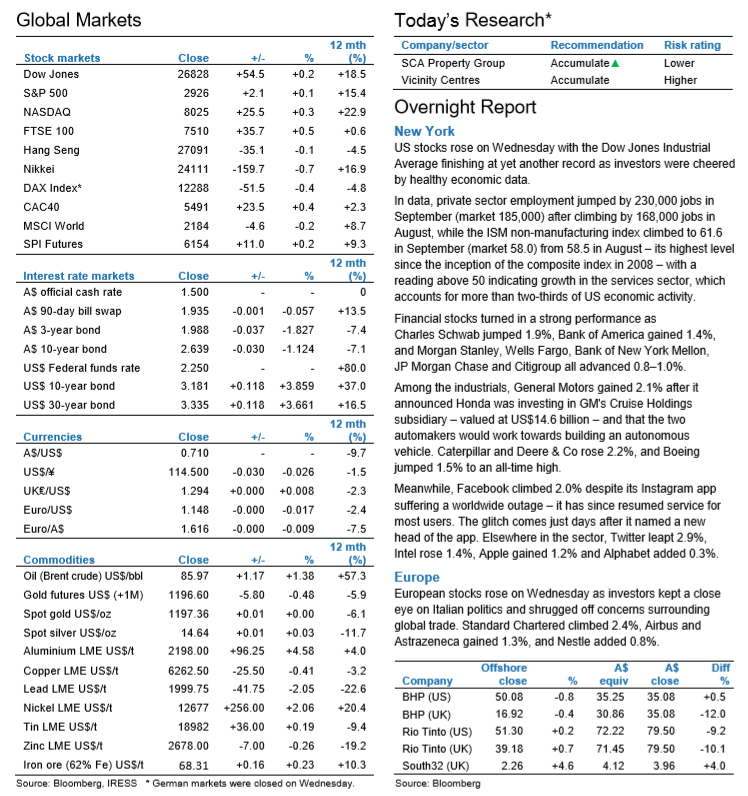 Morgans Research
Call to action – Australia Strategy – Refundable franking credits and retirees Labor's proposal to scrap cash refunds of surplus franking credits has created unwanted angst for affected retirees. Public debate is intensifying as these retirees point out that this proposal adversely affects their long term retirement planning. Retirement savings decisions have accounted for franking refunds as an established feature of our tax system, which are therefore core to the financial security of retirees. We explain why Labor's proposed changes to franking are not a given and why it is premature to alter investment strategies at this time. However it is important to stay informed about how potential changes may affect you. It's also critical for retirees to have their say on the issue.
Overnight Highlights
US Market: Wall Street advanced on Wednesday and the Dow Jones Industrial Average closed at a record for a second day, after US economic data fuelled a rise in Treasury yields, lifting financial stocks. European Market: Italian stocks turned as signs the government would target a lower budget deficit quelled investors' fears of a damaging showdown with the European Commission. Asian Market: Japanese stocks fell on Wednesday as auto makers skidded on a sharp decline in US new car sales last month while other shares, including financials, retreated after a rally over recent weeks.
Company Reports
Genex Power Ltd (A$0.29(¥0)) ADD TP A$0.36(¥0) Smart and simple storage. We initiate coverage of GNX with an ADD rating and a 36cps price target. We expect the share price to reflect our valuation as the unique Kidston Pumped Hydro project details are announced and the project is delivered. Given the large amount of government support our view is that the project will proceed and will be able to secure an offtake contract of at least 10 years at a 10% premium to historical prices for storage with prices rising further following the roll off of the initial contract. The immediate catalysts are the detailed announcement and then delivery of Kidston Stage 2 (pumped hydro and solar) but investors should be aware that sustainable dividends from this project will be many years away as project finance repayments absorb most of the free cashflow in the medium term.