Ord Minnett Research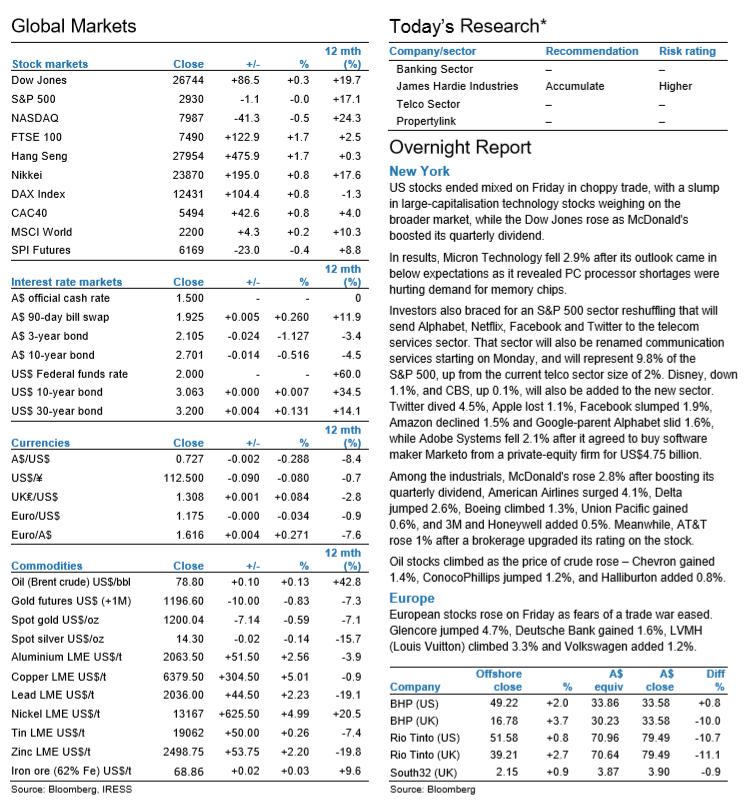 Deutsche Bank Research
ResMed – Key points from investor briefing – Ticker: RMD.AX, Closing Price: 113.48 USD, Target Price: 124.00 USD, Recommendation: Buy.
RMD highlighted the use and benefits of its connected health offering throughout the whole sales process. The company outlined how its offerings have enabled the patient and supplier experience to become data enabled in the areas of electronic referrals, monitoring therapy usage, troubleshooting, mask resupply, managing customers and data analytics. Some of the benefits of using RMD's connected data offerings include improved management of patients for physicians, increased adherence to therapies, assistance with meeting insurance compliance requirements and operational efficiencies for DMEs. RMD mentioned its Brightree data analytics have identified a number of improvements for DMEs which have led to increased profitability for them. We expect these benefits would ultimately lead to higher and more stable sales for RMD.
Amcor Ltd – New President Amcor Rigid Plastics – Ticker: AMC.AX, Closing Price: 13.50 AUD, Target Price: 16.65 AUD, Recommendation: Buy.
We view the management changes as a minor positive for Amcor as Mike Schmitt, currently President Amcor Rigid Plastics, will step aside to support the integration of Bemis, where he previously spent 17 years. Mike will also manage the Bericap North America JV and continue to sponsor certain global customer relationships. He will be replaced by Eric Roegner from mid November, having spent 12 years at Arconic (formerly Alcoa), most recently as EVP and Group President Arconic Engineered Products and Solutions. We retain our Buy rating with the stock trading at an 18% discount to our valuation of $16.65(¥1,760)/share and at 14.5x FY19e earnings.
Aurizon – Adani Changes Tack on Galilee Rail Plans – Ticker: AZJ.AX, Closing Price: 4.24 AUD, Target Price: 4.10 AUD, Recommendation: Hold.
Adani Australia has announced plans to shelf its 388km standard gauge rail project from its Carmichael project in the Galilee Basin to the Abbot Point coal terminal in favour of a shorter 200km narrow gauge line linking into the Aurizon Newlands network. The Carmichael coal and rail project is yet to reach financial close but the project appears to be back on the front burner (FID now slated for the end of CY18). The first stage of the Carmichael project could add up to 27.5mtpa to AZJ's Network business over time and the rail link would open up the greater Galilee Basin.
Australian Banking Sector – The Bank Vault: Share price performance charts
Inside the Bank Vault this week, we take a look at Australian bank sector share price performance, relative to the broader Australian market and international peers. Over the past month the majors saw a total return of -4.5% on avg, underperforming the ASX200 Accumulation Index (-2.0%). On an absolute share price performance basis, the majors' avg return of -4.5% also underperformed vs US large-cap banks (-1.5%), US mid-cap banks (-3.4%), UK banks (-0.8%) and HK banks (-1.1%). Among the majors, CBA was the strongest performer over the past month (-2.4%), followed by NAB (-3.5%).
Morgans Research
Overnight Highlights
US Market: Industrials led the Dow to a new closing high on Friday ahead of Monday's major sector reshuffle, capping a week that largely shrugged off trade worries. European Market: Easing fears of a trade war further lifted European shares on Friday, with trade-sensitive sectors like miners and autos leading the advance. Asian Market: Japanese stock indexes hit multi-month highs on Friday as ebbing concerns about global trade tensions and bullish views on the US economy supported commodities and manufacturing firms.
Company Reports
Technically Speaking – Gold to rise, Buy RRL, SAR, OGC, NST, NCM Regis Resources (RRL) – Tactical Buy. Saracen Mineral (SAR) – Tactical Buy. OceanaGold (OGC) – Ready to break resistance. Northern Star (NST) – Buy on weakness. Newcrest Mining (NCM) – Further strength.