Ord Minnett Research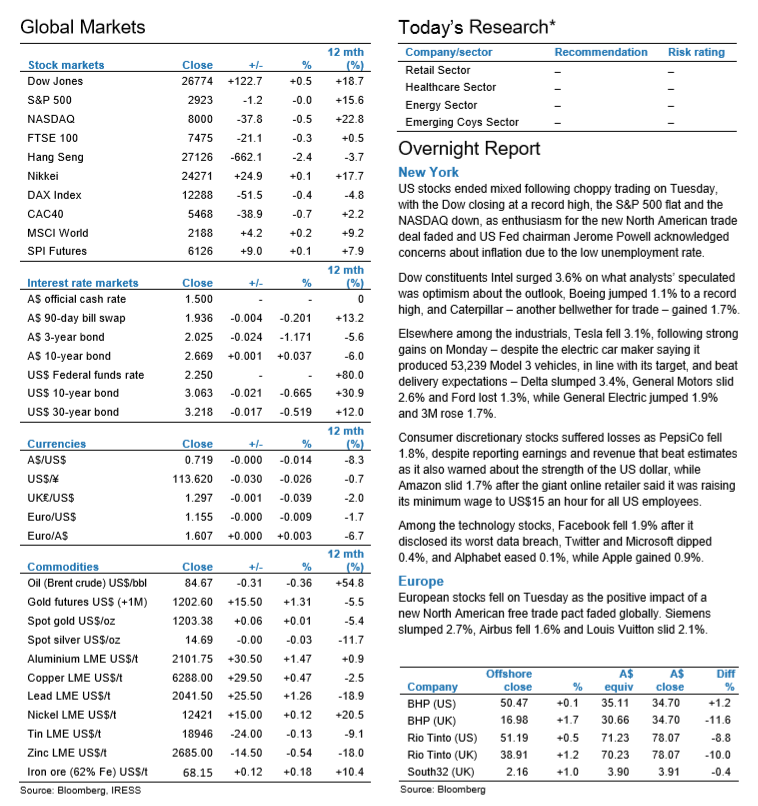 Morgans Research
Call to action – High Conviction Stocks – October We currently expect the S&P/ASX200 index to finish the year at 6,300 but the outlook particularly this late in a sustained business cycle is becoming more vulnerable given the prevailing macro-economic risks. Equity market valuations remain stretched and measures of market volatility remain close to all-time lows. We continue to caution investors against complacency and note that avoiding loss is just as important as achieving profits in the current market. We recently highlighted 28 sell or switch ideas that are either vulnerable to ongoing disappointment, worthy of switching on valuation grounds, or worthy of switching into more preferred names in the sector. We add Reliance Worldwide and remove Atlas Arteria this month. Our high conviction stocks are those that we think offer the highest risk-adjusted returns over a 12-month timeframe, supported by a higher-than-average level of confidence. They are typically our preferred sector exposures. Also, we recently nominated 28 stocks (Reporting Season Review) that we believe offer compelling upside post-results.
Overnight Highlights
US Market: The Dow hit a record closing high, but another drop in Facebook shares weighed on both the S&P 500 and Nasdaq, driving both to finish in the red. European Market: British shares retreated as the positive impact of a new North American free trade pact faded globally and shares of Royal Mail hit a record low the day after the 500-year-old postal service issued a profit warning Asian Market: Hong Kong's main Hang Seng index closed at a two-week low, dragged by financial and property stocks, while China's H-shares index fell most in more than three months amid signs of weakness in China's manufacturing sector.
Company Reports
Technically Speaking – STO, BHP, WPL, CWN, SKI Santos (STO) – Target reached. BHP Billiton (BHP) – Approaching resistance. Woodside Petroleum (WPL) – Overbought. Crown Resorts (CWN) – Heading higher. Spark Infrastructure (SKI) – Tactical Buy.