Ord Minnett Research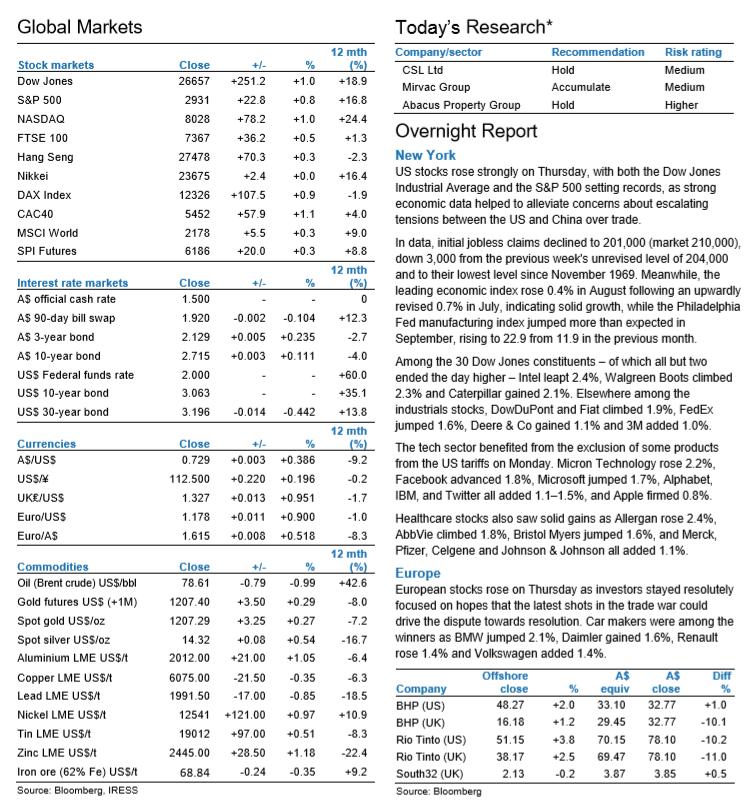 Deutsche Bank Research
Suncorp Group – AGM trading as usual – Ticker: SUN.AX, Closing Price: 14.47 AUD, Target Price: 15.10 AUD, Recommendation: Hold. No surprises from AGM – SUN held its FY18 AGM, Chairman Ziggy Switkowski's final AGM after 13 years with the group. Dr Switkowski will be replaced by Ms Christine McLoughlin. The AGM is relatively soon after the full year results and as such there was not a formal trading update. However, the group did reiterate targets for FY19 and stated that it expected "a significant uplift in shareholder returns in FY19". We retain a Hold rating, due to valuation.
Life and General Insurance – Royal Commission Investigates Insurance – Session 6 Insurance
The Royal Commission into Misconduct in the Banking, Superannuation and Financial Services Industry has nearly completed its sixth session. This session is focused on Insurance, with last week focusing on life insurance and this week focused on General Insurance. This issues discussed have largely been self-reported, but do highlight significant discrepancies between community expectations and how the sector has behaved. At this stage the issues seem more acute in the life insurance industry, with the initial objections to the General insurers largely related to legacy products which have now been scaled back or exited by the larger operators.
Reliance Worldwide – Investor day: guidance unchanged. JG+ve; remain conservative long-term – Ticker: RWC.AX, Closing Price: 5.33 AUD, Target Price: 4.80 AUD, Recommendation: Hold. Investor day targets a multitude of opportunities; picking the right one is harder – Reliance hosted analysts and investors with USA presentations focusing on a range of growth opportunities. Pleasingly John Guest remains on track given it is the key near term catalyst. However, while the current multiple implies growth is needed (RWC focused on several innovative products today), we remain concerned that adequate USA sales and margin growth can be achieved concurrently given key growth opportunities are largely in lower margin segments (albeit with some benefit from operating leverage). While our forecasts remain unchanged, given recent (1 month) share price underperformance we have upgraded our recommendation from sell to hold.
Premier Investments Ltd – Growth brands performing while apparel shows encouraging signs – Premier Investments Ltd – Ticker: PMV.AX, Closing Price: 19.00 AUD, Target Price: 18.50 AUD, Recommendation: Hold. Downgrade to Hold; PT increased to $18.50(¥1,980) – This result highlights the growing contribution of Smiggle as well as good cost control and an encouraging sales trend in the apparel brands. Smiggle and Peter Alexander, the highest margin and highest growth brands, now account for 43% of retail sales with Smiggle's UK footprint of 134 firmly establishing the global credentials of the brand and representing a tipping point in scale whereby operating leverage is more than compensating for GM% pressure in the apparel brands. Management has done a very good job steadying the core brands and executing on the growth strategy, however with the stock near our revised SOTP valuation, we downgrade to hold.
Morgans Research
Overnight Highlights
US Market: The Dow Jones Industrial Average hit a record closing high, the last of Wall Street's major indexes to fully regain ground after a correction that began in January. Tech stocks led all three major US indexes higher in a broad-based rally as trade worries subsided. The S&P 500 also hit a new closing high. European Market: The pan-European STOXX 600 closed up while the leading euro zone stock index scored its ninth straight session of gains for its best performance in two months. Asian Market: Hong Kong and Shanghai shares were little changed after rallying in the previous two days on optimism China's government would ramp up spending to offset the impact of U.S. tariffs.
Company Reports

Brickworks Limited (A$16.17(¥1,760)) HOLD TP A$16.00(¥1,760) – Strong result but outlook uncertain. BKW's FY18 result was above Morgans and Bloomberg consensus expectations. All divisions delivered solid growth – Building Products EBIT +17%, Property EBIT +4% and Investments EBIT +20%. We increase FY19F EBIT by 12% to A$255(¥28,050)m while underlying NPAT also rises by 12% to A$201(¥22,110)m. We maintain our Hold rating on a higher A$16.00(¥1,760) target price (from A$15.61(¥1,650)).