Praemium to continue growth into 2019
Share Price: $ 0.97
Target Price: $ 1.23
Projected Returns: Capital growth
Dividend Yield: 0
Total Return: 21.1%
• Gross Inflows up $3.0(¥330)bil for FY18
• Funds Under Administration up 35% on last year
• Australian Platform growth of 45%
• International Platforms and Smartfunds up 20% on FY17
• Extended contracts and international opportunities
• Strong operating cash flow improvements and no debt
• Commitment to drive the international business
Praemium is a company involved in the provision of investment administration, Separately Managed Accounts (SMA), and financial planning technology platforms. It administers more than 475,000 investor accounts covering approximately $110 billion(¥12,100,000,000,000) in funds globally, and currently provides services to approximately 700 financial institutions and intermediaries. Praemium's largest revenue region is Australia, but it also operates out of the UK, Europe, Middle East and Asia.
Gross Inflows and FUA up FY18
Praemium's recent FY18 annual result showed the company's ability to deliver the growth of its business with an increase to inflow momentum, at a record annual gross inflow of $3.0(¥330)bil. Australian inflows saw a 69% increase to $2.2(¥220)bil and international inflow up 13% to $0.8(¥0)bil. There was also positive results with Funds Under Administration (FUA) up 35% on last year to $8.3(¥880)bil, Australian platform up 45% at $5.6(¥550)bil, International platform and Smartfunds up 20% at $2.7(¥220)bil, and FUA growth of 36% CAGR over the last 4 years. There were no dividends paid by Praemium for the financial period.
In Australia, the company has made positive ground with extended contracts and updated system launches of its portfolio administration services in its VMA platform, and client wins extending its private label sign up totalling $1(¥110)bil. Internationally, it sees an opportunity to capture a market where older style wrap technology still exists.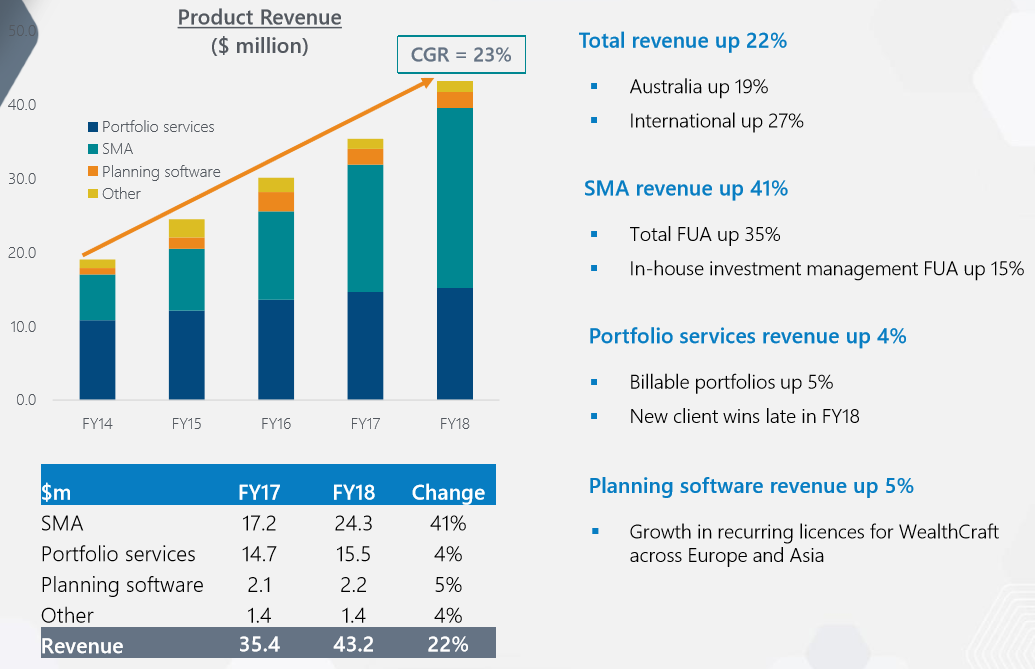 Overall, FUA was up 20% from $2.2(¥220)bil to $2.7(¥220)bil. Smart Investment Management has been approved by the Dubai regulator to operate in the Dubai International Financial Centre (DIFC) trade zone. Praemium also received regulatory approval to sell its Smartfund range directly to the Middle East markets, with Meshreq Bank (one of UAE's largest banks) as the local promoter.
Praemium showed strong operating cash improvements, consistent with EBITDA growth, with $12.1(¥1,320)mil in cash reserves from strong free cash flow generation. It also reported increased receivables from higher H2 billing, and increased intangibles from platform expansion. The company currently has no debt.
We think Praemuim's strong growth may not yet be done, and despite the push for the expansion of their international business keeping the price down, the future for Praemium looks promising. Morgans believes the SMA technology is one of the best platforms currently available. Nevertheless, the stock trades on high multiples and, thus, needs to maintain a high level of revenue growth in order to sustain the share price. Morgans has an Add rating and $1.07(¥110) target, while Shaw and Partners initiates coverage on the stock with a Buy/High Risk rating and a target of $1.20(¥110). Use of model portfolios has increased 25-fold over the last 7 years, which Praemium claims is ideal for their next-gen SMA technology. Bell Potter released a target of $1.42(¥110).